How the Stock Exchange/ Stock Market Works
You've probably heard of the stock market, but have you ever wondered how it all works? In this essay, we will explain in simple English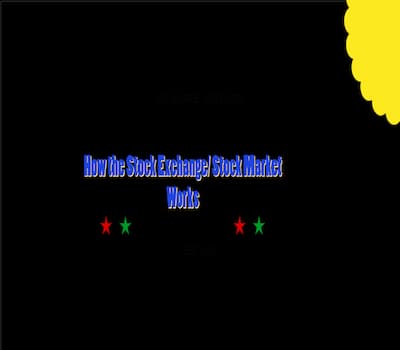 How the Stock Exchange/ Stock Market Works
You've probably heard of the stock market, but have you ever wondered how it all works? In this essay, we will explain in simple English everything you need to know about the Stock Market and how it operates. Meanwhile, before we get into how the stock market works, you should know a few facts about stocks.
What exactly is Stock?
Before you can grasp how the Stock Market works, you must first understand what a stock is. What exactly is a stock? A stock is essentially a share of a company's ownership or equity. A corporation must be publicly listed in order to offer equities to the general public. We'll explain what a public corporation is later. For the time being, all you need to concentrate on is the definition and meaning of a stock. The stock has several definitions, but they all mean the same thing, so don't worry. Many people want to know if they can make a living from the stock market.
What exactly is a public company?
A corporation must go public before it may sell stocks to the public or be listed on a stock exchange. The procedure is known as an initial public offering or IPO. Simply described, an IPO is when a private firm becomes a publicly traded company for the first time. An IPO allows a private company to begin selling stock to the general public. When a company goes public, investors like you can now purchase shares or a portion of the firm's ownership.
Read Also: Ways to Make Money, Investing in Cryptocurrency
How is the price of a stock determined?
An initial price for a company is issued during an initial public offering (IPO). Some businesses are sometimes overpriced. However, the IPO process allows a company's first investors to cash out or sell their shares during the IPO. A company's stock price is determined by dividing the company's valuation by the total number of shares to be issued. IPOs are frequently advantageous to first-time investors or major financial firms.
How the stock market /stock exchange works
You now understand what a stock is and the types of corporations that trade on the stock exchange. Let us now examine how a stock market operates. The stock market operates by companies going public in order to sell shares to investors in order to raise funds for growth or expansion. Investors then purchase the company's stock and hope that the value of the stock rises so that they can sell it for a profit at a later date. The process is repeated indefinitely, and this is how the stock market operates.
On the Stock Exchange, the process of buying and selling stocks takes place. In other words, the stock market is a marketplace where individuals can buy and sell stocks or shares. The stock market can also be defined as a location where stocks or shares are traded.
Buyers and sellers move the entire stock market. There are a few important economic events that typically flip market sentiment from bearish to bullish. Inflation, conflict, and virus epidemics can all have an impact on the stock market.