Victoria Derbyshire Television, Bio, Age, Father, Family, Illness and Salary
4 min read
Victoria Antoinette Derbyshire is a British television presenter, broadcaster, and journalist. She hosted the current affairs and debate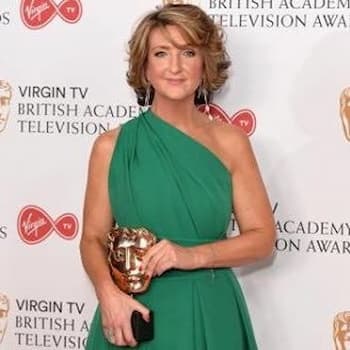 Victoria Derbyshire Biography
Victoria Antoinette Derbyshire is a British television presenter, broadcaster, and journalist. She hosted the current affairs and debate program, a weekday program that aired on both BBC Two and the BBC News Channel from 2015 until 2020. Derbyshire also presented BBC Panorama and Newsnight.
Victoria Derbyshire Age and Birthday
Derbyshire was born on 2nd October 1968, in Ramsbottom, Lancashire, Derbyshire is currently 53 years old.
Victoria Derbyshire Height
Derbyshire is a woman of above-average stature, she stands at an above-average height as well as has moderate weight. Reagan stands at an average estimated height of  169 cm.
Victoria Derbyshire Family
Victoria is the daughter of Anthony and Pauline Derbyshire. She has a younger brother, Nick Derbyshire, and a younger sister whose name is not available.
Victoria Derbyshire Father
Victoria said that her father, Anthony Derbyshire physically abused her, her mother, and her siblings when she was a kid. Her mother eventually walked out on her dad with her three kids, Victoria was 16 at the time, and she never saw her father again. Derbyshire took of these misfortunes during an edition of the BBC's Panorama when she presented on Domestic abuse in August 2020 during the lockdown.
Suggested, Rudy Pankow's Age, Bio, Height, Movies, Spouse, Kids, Net Worth.
Victoria Derbyshire Husband
Victoria and Mark Sandell met at Radio 5 Live. Mark was still married to Fi Glover at the time but he went on to have an affair with Derbyshire. Sandell and Derbyshire married in 2018 after being together for 17 years.
Victoria Derbyshire Education
Derbyshire attended Bury Grammar School for Girls, an independent school. She later attended the University of Liverpool, studying English language and Literature. Derbyshire then went to Preston Polytechnic (now the University of Central Lancashire) for a postgraduate diploma course in radio and TV journalism.
Victoria Derbyshire Career
Derbyshire first worked as a reporter for BBC Coventry & Warwickshire and then she moved to BBC GMR Radio. She later joined BBC Radio 5 live in 1998, at first she deputized for Jane Garvey on the breakfast show, and then later became the regular co-presenter alongside Julian Worricker when Garvey moved on. Worricker left the show in January 2003 and Derbyshire was partnered by Nicky Campbell. Victoria covered many stories for the network, some of her major stories include the Paris Concorde crash, the general election, and the Olympic Games. She also covered the Grenfell Tower fire and the Manchester Arena bombing on TV.
Victoria Derbyshire Television
Derbyshire has also worked on TV where she has handled television news and political programs including This Week, an interview series, Victoria Derbyshire Interviews on the BBC News Channel, and Watchdogs, as well as Panorama. Apart from politics, she has also hosted a sports chat show on Channel 4 on Saturday mornings called Sports Talk. The last episode of Central Weekend Live was hosted by Derbyshire in 2001. A decade later, Derbyshire made her debut on Have I got news for You. In 2013, Derbyshire began presenting Newsnight under the editorship of Ian Katz, she did this and still continued to present her daily 5 Live programs. Her final broadcast on Radio 5 Live show was on 5 September 2014.
The current affairs TV program was Victoria's own idea, she mentioned it to James Harding, then head of BBC News, James commissioned it three days later. On 7 April 2015, the show was broadcast for the first time on BBC Two and the BBC News Channel. The program was later canceled in 2020 at the beginning of the year due to the high costs of production. The BBC also complained that the show did not attract young and diverse audiences. This meant that Derbyshire had to move on to some other responsibilities, She presented BBC News 9 from 9 to 11 am on BBC Two, BBC News Channel, and BBC World News. In November 2020 it was announced that Derbyshire would take part in the twentieth series of I'm a Celebrity…Get me out of here. She was eliminated alongside Beverley Callard on 30 November.
READ ALSO: Courtney Reagan CNBC, Bio, Age, Family, Husband, Baby, and Salary
Fi Glover Victoria Derbyshire
Fi Glover is Mark Sandell's ex-wife. Mark Sandell is currently married to Victoria Derbyshire, the two met at Radio 5 Live and had an affair while Sandell was still married to Fi Glover who was a fellow presenter at 5 Live. After being together for 17 years, the two finally married in 2018.
Victoria Derbyshire Breast Cancer | Illness
In August 2015, Derbyshire took to Twitter to announce that she had been diagnosed with breast cancer and that she would be having a mastectomy, in her post she promised to continue to present her program as often as possible during treatment. She recorded videos during her treatment that went viral and garnered millions of views. She took part in an ITV documentary in 2018, alongside seven other women in an attempt to raise awareness and encourage women to check their bodies from time to time for signs of cancer disease.
Victoria  Awards
She won the Nick Clarke Award in 2009 for an interview she conducted with a man who was accused and then cleared of date rape. Victoria was later named both in 2015 and 2016 PinkNews Broadcaster of the Year. She was also named the RTS Network Presenter of the Year in January 2016 and January 2017.
Victoria Derbyshire salary
Back in July of 2019, following the BBC's release of a report of its top earners, it was discovered that Victoria Derbyshire collected a salary of nearly £219,999 for the year 2018/2019.
Victoria Derbyshire's Net Worth
Victoria's net worth is estimated at $4 million, this is of course with reference to the resources available online.
How old is Victoria Derbyshire?
Born on October 2, 1968, in Ramsbottom, Lancashire, Derbyshire is currently 53 years old.
Is Victoria Derbyshire married?
Yes, Victoria and Mark Sandell met at Radio 5 Live. Mark was still married to Fi Glover at the time but he went on to have an affair with Derbyshire. Sandell and Derbyshire married in 2018 after being together for 17 years.