Amy Kellogg FOX; Age, Bio, FNC, Parents, Husband, Net Worth, Salary
3 min read
Renowned American journalist Amy Kellogg is currently located in Milan as a Senior Foreign Affairs Correspondent. She joined FOX News Channel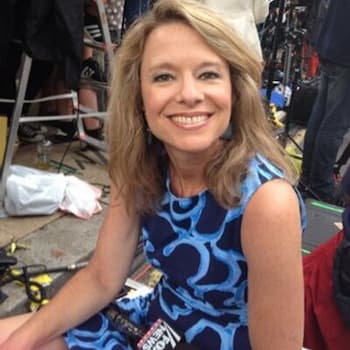 Amy Kellogg Biography
Renowned American journalist Amy Kellogg is currently located in Milan as a Senior Foreign Affairs Correspondent. She joined FOX News Channel (FNC) in 1999 as a correspondent based in Moscow. The most recent breaking news story Kellogg covered was Russia's invasion of Ukraine, which was reported live from Moscow. She previously provided live coverage of the Paris terrorist attacks on November 13, 2015, from France.
In 2014, Kellogg covered the events in Kyiv and Crimea live from Ukraine. She also covered the birth of His Royal Highness Prince George of Cambridge, the first child of the Duke and Duchess of Cambridge, as well as Pope Francis' inauguration in London and the resignation of Pope Benedict XVI. In addition, Kellogg has written about the 2011 Amanda Knox appeal trial, the 2012 London Olympics, the elections in Iran and Russia, Prince William and Catherine Middleton's royal wedding, and more.
During her tenure at FNC, Kellogg was a key contributor to the network's coverage of prominent foreign issues. After the release of 15 British sailors, she traveled to the Islamic Republic of Iran and had the opportunity to speak with President Mahmoud Ahmadinejad during a news conference. Kellogg has written about political and social issues in the area, including spending time with Iranian children and Iranian and Iraqi combat veterans who are suffering from the effects of Saddam Hussein's chemical weapons.
…
After September 11, 2001, she reported from Pakistan and Afghanistan, then during the Second Intifada from Israel and the Palestinian Territories, and finally in 2004 from Iraq. On board the USS Stennis, Kellogg has once more reported from Saudi Arabia, Bahrain, the United Arab Emirates, and the Arabian Sea.
Additionally, she covered the resignation of the late Russian President Boris Yeltsin and traveled to Chechnya during its second conflict in the 1990s. When Pope John Paul II passed away in 2005, she extensively covered his life and provided updates from Poland. In addition, Kellogg covered the wedding of Prince Charles and Camilla Parker-Bowles in 2005, the London transit bombings in 2005, and the Mumbai train bombings in 2006. Along with Prince Andrew, Duke of York, she also traveled to North Africa on a business and investment expedition for the United Kingdom.
Prior to joining News 12, Kellogg worked at Scranton, Pennsylvania's WNEP-TV (ABC 16), Wilkes-Barre, Pennsylvania's WBRE-TV (NBC 28), and Syracuse, New York's WSYT-TV (Fox 68). Kellogg graduated from Phillips Academy in Andover, Massachusetts, with a B.A. in Russian. She received a degree in Soviet Studies from Brown University. After spending a semester studying Russian at Leningrad State University and East European Studies at Stanford University, Kellogg received her M.A. in both fields. She is bilingual in French and Spanish.
Age of Amy Kellogg
What is Amy Kellogg's age? By 2023, Kellogg will be 58 years old. The American state of California is where she was born in 1965. We're doing some research on how, when, and where she celebrates her birthday right now, and we'll have that information updated shortly.
Amy Kellogg Parents
In the United States of America, Kellogg was born to a Caucasian mother and an African-American father. But more specific information about her parents and siblings is still a mystery.
Amy Kellogg's spouse
Amy Kellogg, is she wed? No. By 2022, Kellogg will not be married. She is focused on her work. She has never been married and has never given birth to a child. As soon as more information on her romantic life becomes available, we'll keep you informed.
Height of Amy Kellogg
Kellogg's typically weighs around 57 kg and is 5 feet 8 inches tall (1.73 m) in height.
Salary of Amy Kellogg
The typical yearly pay for Kellogg is $72,000.
Value of Amy Kellogg / Net Worth
What is Amy Kellogg's net worth? As of 2022, Kellogg is thought to have a $2 million net worth. Her work as a Senior Foreign Affairs Correspondent has given her money.